Before it's too late, and you've already made your choice, please read this article about two phenomenal projectors mentioned in the title. The projectors we are here to review today are great for your home cinema or office presentations. With many similarities and some important differences, it's not an as easy pick. Yaber v7 has a lot to offer, but some features of Yaber v10 could be the game changer. In case you are confused and not sure which one to pick- we are here to help you decide.
Yaber v7 vs Yaber v10 Comparison
Table could not be displayed.
Resolution
There isn't a big difference between these two projectors when it comes to the resolution. 1920 x 1080 resolution is what both of them have to offer. To be fair, you won't be using any other resolution most of the time. In case you want to try something different, you can try 4k since both of these projectors support it.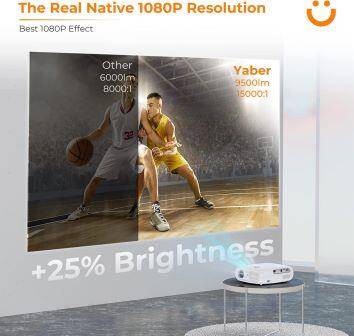 Picture Quality
Picture quality is nothing too spectacular on both of these projects.  It's great – don't get me wrong, and you won't have any issues with it. Picture quality will be good enough for both business and personal use. If you decide to use it in a dark room, you will unlock the full potential of these two projects. We would recommend these two projectors for watching movies with your friends or for small office presentations.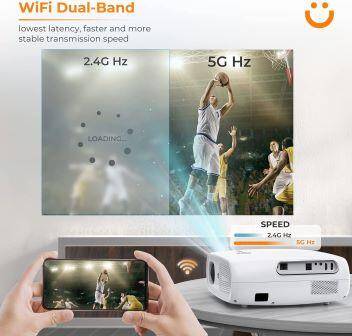 Design and Dimensions
It's really easy to describe the differences between the design and dimensions of these two projectors. Let's start with something obvious as soon as you see them. Color is a feature that shouldn't affect your final decision, as it doesn't affect the performance of these or any other projectors. Some people prefer one or the other color. If you are a fan of the black color and it's important to you – go with the v10 projector or v7 in case you love white.  More important features to some people might be the dimensions and weight. Yaber v7 is heavier but smaller. It weighs 4.9lb. On the other hand, Yaber v10 weighs 4lb but is just a little bit bigger. The inspiration for the v10 design was outer space, while v7 has a retro design. You will have to choose what you prefer, but in our opinion, v10 has a cooler design.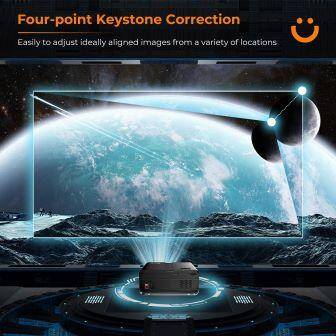 Brightness and Contrast Ratio
9500 Lumen is what both of our competitors can offer, and that's enough for most of the potential users of these projectors. You won't have any issues watching the content from these two projectors in different situations. However, the best way to use these projectors is in a dark place, with no visual or audio noise. The contrast ratio is equally important as brightness, and in this case, both projectors can offer a 12000: 1 contrast ratio. Why is it important? It's very simple! With high contrast ratio, you will be very happy with the number of details on a projected image. It's extremely important, and it can be one of the main reasons for the great quality of the image.
Audio Quality
Both projectors will offer a decent sound for indoor projections. If you want to use it in a crowded room or outside, we suggest a connection to an external audio device. To be honest, we can't expect much when it comes to audio in mid-range priced projectors. We might get some improvements in the future though. Let's hope for it!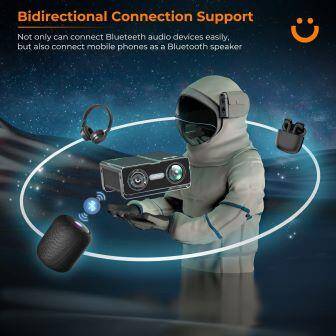 Connectivity options
In this category, it's safe to say that v10 is the winner. Why? Well, it simply has more options than v7. Yaber v7 comes with a 2.0 USB port, and that is sometimes not good enough. At the same time – v10 has a few extra options to offer, such as an RS232 port or LAN port. I know some of you might think a few options v7 has to offer would be enough, but you never know when and where will you need more options. Sometimes you might forget the USB cable and will be glad you have more than one option.
Customer reviews
Although the Yaber v10 has a slightly higher average rating, both devices have high average ratings on Amazon. Read more at this link.
Final thoughts
It was a very tough decision as both of these projectors have similar features. We think both v7 and v10 will be great choices for your home theatre, office, or backyard cinema.  However, v10 has a few extra features to offer like better connectivity, cooler design, and SmartEcho technology which minimizes lamp power consumption and makes it last longer. Because of these reasons, we would recommend v10 even though it's a bit more expensive. In case you want to save some money, v7 will be a good choice too.
FAQ
Are these projectors good enough for indoor and outdoor projections?
Answer- Yes they are! You will be satisfied with what they can offer. Good contrast ratio, brightness, and picture quality will satisfy your needs. What's cool about them – they come with a decent price tag!
Is it possible to use WIFI to operate these projectors?
Yes, it is of course. You just need to use an app and control these projectors without a problem.  You can connect wirelessly through your smartphone, laptop, or desktop computer
Why is the Keystone feature important on a projector?
It's very important because it allows you to change the angle, size, or shape of the projected image. It's a very useful option
How to clean the projector in case it's needed?
Very simple! Underneath the projector, you will notice a sticker, and under it, you will see a door. When you open the door, clean the lens gently using a swab. When you finish, close the door and put the sticker back.
Is it possible to watch videos directly from the USB without connecting them to a computer?
Yes, it's possible, and you won't be disappointed with the picture quality.  It's a great feature on a projector!
READ MORE: