The projectors we are reviewing today will be a great addition to your home. They have much to offer, and they can bring lots of fun to you are your family. If you enjoy watching movies, cartoons or TV shows at home look no further.  If you often have indoor or outdoor presentations this is the right place to be. Yaber V7 and Y31 are great video projectors with similarities and differences we will discuss today.  It's always better to read reviews of the products you plan to buy, and we are here to help you choose between the two mentioned projectors. Let's start!
YABER V7 VS YABER Y31 – Comparison
Table could not be displayed.
Image Quality
Both of these projectors offer great image quality. The contrast ratio on Y31 is 10000:1 and that's great, but V7 has a slightly better 12000:1 ratio. I hope you know about the importance of the contrast ratio. It is the difference between dark and light on the screen shown in numbers. It's very important for picture quality. The brightness of 9500 on v7 is more than enough for the majority of people, but in case you care about numbers, Y31 can offer 9800 Lumen. Both projectors can also offer the same aspect ratio of 16:9 (Widescreen), but v7 has the option for 4:3 as well.  We can't declare the winner here because the projectors are very similar to each other. Differences are not huge, and most of those differences are not easy to notice while using these projectors.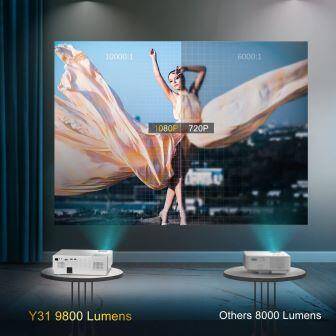 Image Size 
The minimum image size of 50″ is the same on both of our candidates, but the maximum image size makes the difference. Maximum image size is 300″ on Yaber Y31 and that's great, but v7 simply has a bigger maximum image of 350″. It might be important to some of you in case you want to use it outdoors. In this subcategory, more options are always welcomed. The winner is v7, and overall a slightly better choice for projections for more people and bigger walls. In case you want to use your projector mostly indoors, Y31 is a great choice as well. One more thing worth mentioning is the 4k support of Yaber 31 which is a great feature! Unfortunately, Yaber v7 can only offer 1080p.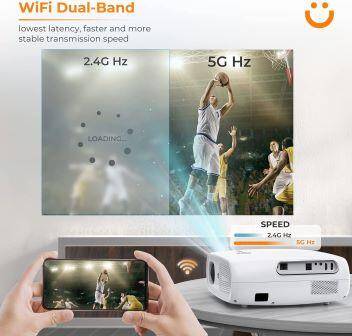 Audio Quality
Audio Is very important because it can make the whole experience much more vivid and exciting. I am sure that these projectors have enough to give when it comes to audio. Mono audio is decent but not as good as stereo in our opinion. Mono is sometimes too flat and less dynamic than stereo. Stereo on the other hand sounds more natural and sounds are not played from 1 channel only with the same tone. It's more diverse, and because of that, we have to be satisfied with both of these projectors. They offer 3W dual stereo with SRS and produce a sound of decent quality.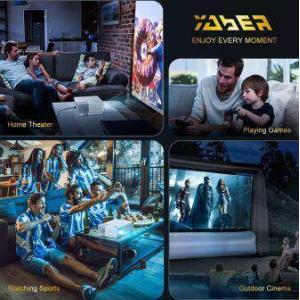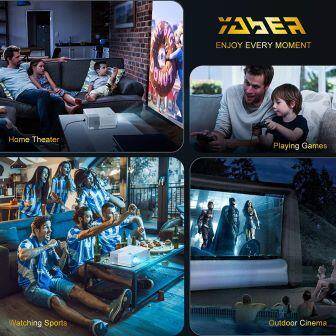 Design and Size
Both projectors come in white, and some gray and black details.   V7 has an oval shape, while Y31 has a rectangular shape. They are very similar in design, so your choice should be based on your taste this time. When it comes to size, they are not too big or too heavy. Y31 is slightly bigger and heavier, but that really shouldn't cause any problems for you.
Lamp life 
90000 lamp life hours are enough for the majority of users, and Y31 offers that amount of hours. At the same time, v7 will offer 30000 hours more than the Y31, and to some people that might be important. In our opinion, it's very difficult to use the projector that much, to worry about the lamp's life.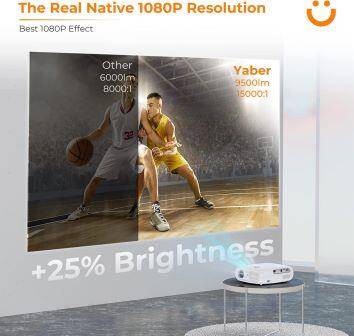 Keystone correction 
Keystone correction is a very important feature of all projectors. Y31 has a great 4D keystone correction, as seen in a few projectors, while the V7 has a completely new feature called 6D correction. Why is 6D so good? When you turn on the projector it will automatically adjust the image. In case of any accidental movement, v7 will automatically restore and correct the same image within a second. That's simply awesome! We hope other projectors will be able to offer this feature in the future.
FAQ 
Are the brightness and the contrast important?
Yes, they are extremely important, because they decide the image quality. Both the y31 and v7 offer great contrast and brightness.
Can I use an external audio device with these projectors?
Yes, you can! You can connect your speakers or other audio devices in case they are supported.
Check the specification list for connectivity.
Is the YABER brand well-known?
Yes! Yaber was founded in 2018 and nowadays is available in over 46 countries around the world.
Can you use a projector on a wall instead of a screen?
Yes, you can! One of the issues with using the wall instead of the screen is a small decrease in image quality. However, if your wall is not colorful or bumpy – you won't have issues.
READ MORE: