You are on the verge of buying a new projector, and you can't decide which one to get? We will help you! Both of the projectors we will review in this article would be amazing choices for your daily needs. Please read the text and compare some of their key features with us. In this article, we would like to present you with two amazing video projectors-  YABER Y30 and YABER Y31. The design of these projectors is the least important category as they are very similar. They are very similar in other aspects too, but a few differences might be crucial when choosing the one suitable for your needs. Before choosing, please read all the details and our experience with these products.
YABER Y30 vs YABER Y31 – Comparison
PROJECTOR
YABER Y30
YABER Y31
Brightness
7.500 LED Lumens
8000 LED Lumens
Resolution
1920×1080  (maximum 4k resolution)
1920×1080 (maximum 4k resolution)
Aspect Ratio
16:9 (HD)
16:9 (HD)
Dynamic Contrast
8,000:1
10,000:1
Display Type
TFT LCD x 1
TFT LCD x 1
Color Processing
8- bit
8- bit
Video Modes
720p, 1080i, 1080p/60
720p, 1080i, 1080p/60
Lamp Type
LED
LED
Lamp Life
100,000 hours
90,000 hours
Included Lens
Fixed focal length, manual focus
Fixed focal length, manual focus
Optional Lenses
No
No
Lens Shift
No
No
Throw Distance
1.5 m- 5.5 m
1.8 m- 5.5 m
Image Size
45″ to 200″
50" to 300"
Zoom Capabilities
Zoom out up to -50%
Zoom out up to -25%
Digital Zoom
Yes
Yes
Digital Keystone
Horizontal & Vertical
Horizontal & Vertical
Projector Size
11 cm x 28 cm x 27 cm ( HxWxD)
10 cm x 30 cm x 23 cm (HxWxD)
Weight
2.9 kg
2.6 kg
Internal Speakers
3.0 Watts x2
3.0 Watts x2
Power
115 Watts 100V – 240V
120  Watts 90v – 240V
Connection Panel
Audio In: Mini Jack      USB x2

Audio Out: Mini Jack   VGA In: Dsub-15pin

HDMI x 2

Audio In: Mini Jack      USB x2

Audio Out: Mini Jack   VGA In: Dsub-15pin

HDMI x 2
IMAGE QUALITY
Both of these projectors have great image quality and can support up to 4k resolution. The contrast ratio is 8.000:1 for Y30 and 10.000:1 for Y31, and we have to say it's obvious who is a winner in this subcategory. If we compared these two with the majority of the other projectors, they would both be the winners. One of the main reasons for that is those monitors mostly have a 1000:1 contrast ratio. Brightness is a little bit better on Y31 than on Y30, but honestly– most people won't even notice the difference. The aspect ratio for both of these projectors is 16:9, and that's the last thing worth mentioning when it comes to image quality.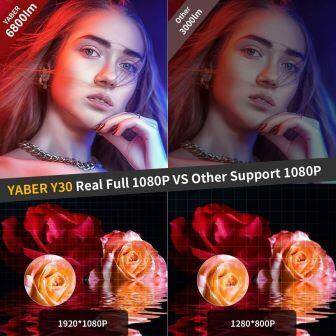 IMAGE SIZE
Image size is also worth mentioning, and once again Y31 beats Y30 by a 33% difference. Y31 can produce image sizes up to 300 inches, while the Y30 is limited to 200 inches. For the majority of people, an image size of 200 inches should be more than enough. In case you want to use the projector outside and need a bigger image size, we would suggest Y31. With great image quality and size, you will have a feeling you are at the cinema. In case you want to use your projector mostly indoors, both of them will ring the bell.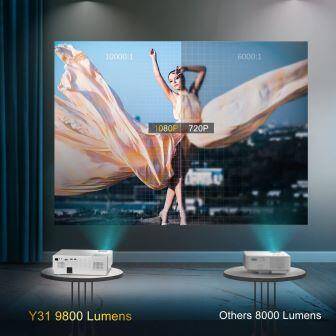 AUDIO QUALITY
The audio experience is most definitely as important as the visual experience. Audio quality is one of the reasons people enjoy cinema much more than watching TV at home.
Our two candidates Y30 and Y31, have stereo dual stereo 3w speakers. YABER used solid Hi-FI speakers in both of these projectors, and for that – we are grateful.
One downside of the Y30 is the projector size, and because of it – the sound quality is sometimes not as good as the sound quality on the Y31. The great thing about both projectors is the presence of SRS ( sound retrieval system) which can greatly improve the sound quality. Y31 uses the potential of this system a bit better, and the sound produced with it is very crisp and accurate.  Yaber31 can support Dolby Digital, and because of that, it will produce a better surround sound experience than Yaber30.
SIMILARITIES AND ADVANTAGES OF Y30 AND Y31
4K Support is an amazing feature that 80% of projectors won't be able to offer in the same price range, and that is simply impressive ( 4k is possible when connected to a PC only). Hats off to YABER for this feature. The native resolution of these projectors of 1080p is enough to beat their competitors since most of them won't offer resolutions higher than 720p. We can see that YABER wanted to make a stand and show its competitors how to make a great projector for a decent price.
4D keystone correction is an amazing feature, other projectors won't possess. This technology enables you to adjust the image vertically and horizontally with ± 50-degree correction, while other projectors won't offer more than 10-20 degree adjustments.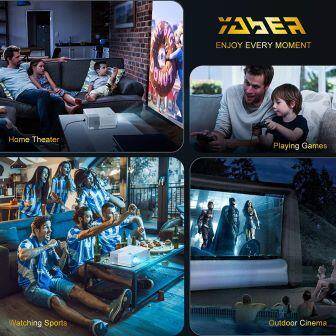 LAMP LIFE
Lamp life is not something you should worry about, because both of these offer a great amount of usage time. 100 000 usage hours is a huge number ( more than 10 years of continuous usage). We are sure only a few of you will use it this much.
FINAL THOUGHTS
To be completely honest, Y31 is the clear winner in most of the categories, but the differences between both projectors are not as big as many of us expected. For a similar price, you will get a better projector if you choose Y31. In case you prefer a projector with smaller dimensions or with a more oval than rectangular shape and some features Y31 offers are not that important to you – feel free to go with Y30. We would suggest Y31, as it offers a bit more, and it comes with a great price.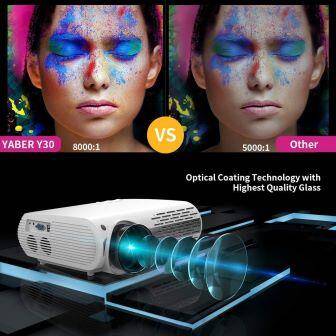 FAQ
Are the YABER projectors mentioned in the review good enough?
Yes, they are good in case you want a relatively cheap projector for everyday use. You will be more than satisfied with what both of these projectors can offer.
LED or LCD, what is a better choice for a projector?
LED can last longer, and it requires less maintenance than LCD. With LCD you might have to replace the bulb a few times.
How important is the Brightness of a projector?
It's very important! At least 1500-2000 Lumens for indoor usage. You don't need to worry since both Y31 and Y30 can offer much more than that!
How to update software in case it's needed?
You can contact after-sales service to get the updated firmware by email at support01@yaberauto.com.
READ MORE: